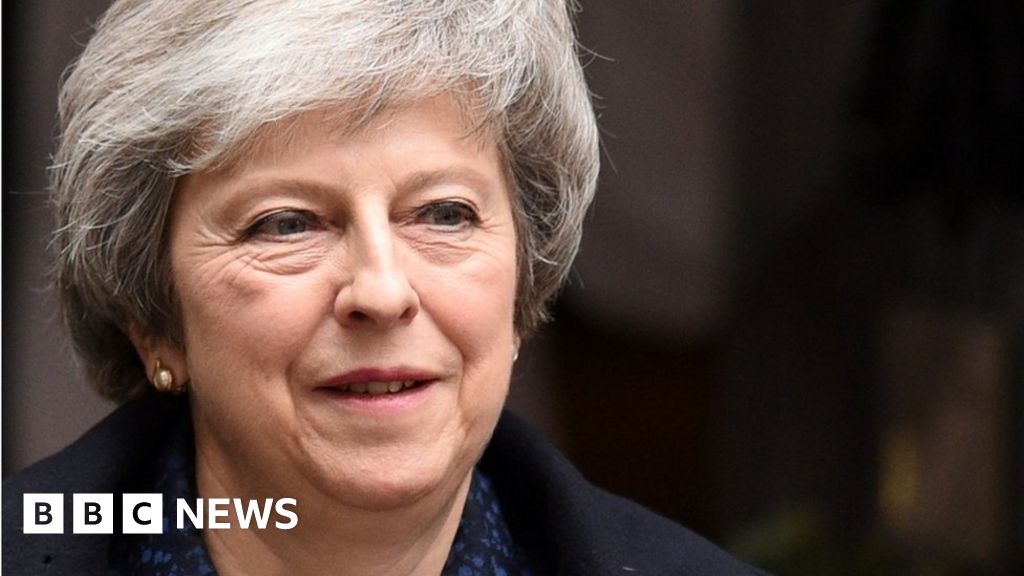 Image copyright
Getty Images
Holding another referendum on the EU would "break faith with the British people", Theresa May will warn MPs.
Former PMs John Major and Tony Blair are among those urging a new referendum if MPs cannot agree on a way forward.
But the prime minister will argue that it would do "irreparable damage to the integrity of our politics" and would "likely leave us no further forward".
Last week she called off a Commons vote on her Brexit deal, admitting it was likely to be heavily rejected.
The UK is due to leave the EU on 29 March 2019 – the deal sets out the terms of exit and includes a declaration on the outline of the future relations between the UK and the EU. But it only comes into force if the UK and European Parliaments approve it.
The prime minister has signalled MPs will now vote on this early next year, and no later than 21 January.
But Labour and other opposition parties, as well as some Tory Brexiteers say a decision is needed now, so alternative options can be considered if Mrs May's deal is rejected.
They are seeking to force a vote before the Christmas recess begins on Thursday, although the BBC's Norman Smith said it was not clear how they could do this.
Potential "Plan B" options include:
pursuing different Norway or Canada-style arrangements with the EU
leaving on the basis of a "managed no deal"
delaying Brexit to restart negotiations
hold a fresh referendum
Calls for another referendum have grown in recent weeks amid signs a majority of MPs are opposed both to the deal on the table but also leaving the EU without any kind of agreement.
Mr Blair said last week that after 30 months of negotiation, giving the final say to the people would become the "logical" outcome if there was a deadlock and every other option had been exhausted.
Please upgrade your browser
Your guide to Brexit jargon
But Mrs May will tell MPs on Monday: "Let us not break faith with the British people by trying to stage another referendum.
"Another vote which would do irreparable damage to the integrity of our politics, because it would say to millions who trusted in democracy, that our democracy does not deliver.
"Another vote which would likely leave us no further forward than the last. And another vote which would further divide our country at the very moment we should be working to unite it."
New Brexit poll logical outcome – Blair
The PM is coming under pressure from cabinet ministers to "test the will of Parliament" through a series of "indicative" non-binding votes – which would see MPs pass judgement on the options available in the hope of identifying the most popular.
Business Secretary Greg Clark said he backed Mrs May's deal but if Parliament was implacably opposed, it should be "invited to say what it would agree with".
"Businesses expect MPs to take responsibility rather than just be critics," he told Radio 4's Today.
'All options'
Work and Pensions Secretary Amber Rudd made the same point, saying "all options" should remain on the table and if the deal was rejected "let's think about how we test the will of Parliament to find out where the majority is".
But International Development Secretary Penny Mordaunt, who has previously backed the idea of MPs having a free vote (ie not being told how to vote by their party leaders) on the EU agreement, said the referendum showed people had decided they wanted to leave.
"We asked the people to decide, they decided… that means we can't come up with something else in Parliament," she said.
Dame Margaret Beckett, a former foreign secretary who is a supporter of the People's Vote campaign for a fresh referendum, said the case was becoming "overwhelming" and was "the best way forward for our country".
Media playback is unsupported on your device
Media captionCould there be a second Brexit vote?"A new public vote would be different from the referendum in 2016 because we now know more about what Brexit means.
"Any effort to force Brexit over the line without checking that it has the continued consent of the British people will only reinforce divisions."
The prime minister is due to update MPs at 15:30 GMT on last week's European Council summit, where she made an appeal to EU leaders to help get the deal "over the line".
She went to Brussels at the end of a week in which she delayed the Commons vote on her Brexit deal, admitting it would be rejected by a significant margin, and then went on to survive a vote of no confidence in her leadership by Conservative MPs by 200 votes to 117.
Media playback is unsupported on your device
Media captionConfused by Brexit jargon? Reality Check unpacks the basics.She had been seeking legal assurances over the controversial "backstop" plan to prevent a hard border between Northern Ireland and the Irish Republic, if no trade deal is reached.
But EU leaders told her the negotiated withdrawal agreement was "not open for renegotiation", although some clarification was possible.
Mrs May said on Friday that her talks with EU leaders had shown that "further clarification and discussion" was possible and that the UK would be "working expeditiously over the coming days to seek those further assurances I believe MPs will need".
But Labour leader Jeremy Corbyn said her deal was now "dead in the water" and the prime minister had "utterly failed in her attempts to deliver any meaningful changes".
Media playback is unsupported on your device
Media captionLiam Fox: 'How do we tell the SNP that they can't have another referendum on independence?'On Sunday, senior Tory Brexiteer Liam Fox told the BBC that unless MPs' concerns were addressed, the deal was unlikely to get through the Commons.
If it could not, he suggested: "Parliament would have to decide on the alternatives." He suggested giving MPs a free vote could be one option.
There were reports in the Sunday newspapers that two of Mrs May's key allies were planning for another referendum, in the event that her deal cannot get MPs' backing.
Both men – Downing Street chief of staff Gavin Barwell and Mrs May's de facto deputy David Lidington – distanced themselves from the reports.