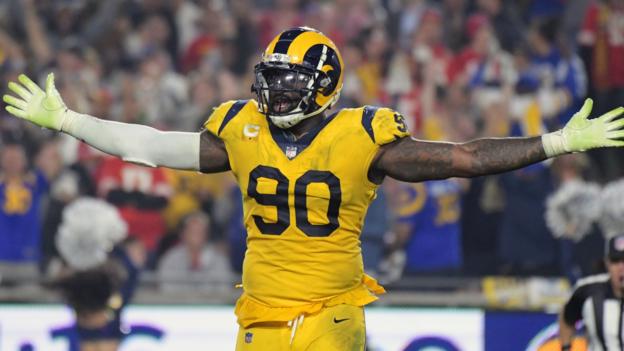 NFL: Every touchdown as Los Angeles Rams beat Kansas City ChiefsThe Los Angeles Rams won a clash of two Super Bowl favourites as they beat the Kansas City Chiefs 54-51 in the third-highest scoring NFL game of all time.
Rams quarterback Jared Goff threw four touchdowns including the winning score with 1 minute 49 seconds left.
It is the first time two teams have scored more than 50 points in a match.
"It was a whirlwind," said Rams head coach Sean McVay, whose side improved to 10-1. "Until the final few seconds you weren't really able to breathe."
The match between the league's two highest-scoring offenses was moved to Los Angeles Memorial Coliseum after concerns over the pitch at Mexico City's Azteca Stadium.
Chiefs quarterback Patrick Mahomes was on the losing side despite throwing 478 yards and six touchdowns, with the lead changing hands six times.
Mahomes had two chances to overhaul the Rams after Goff's late score, but twice threw interceptions under pressure.
The 105 total points has been topped only twice in NFL history – 106 when the Cincinnati Bengals beat the Cleveland Browns 58-48 in 2004 and 113 as the Washington Redskins won 72-41 against the New York Giants in 1966.
"It was a crazy game," said Goff, who threw for 413 yards. "It was a lot of fun."