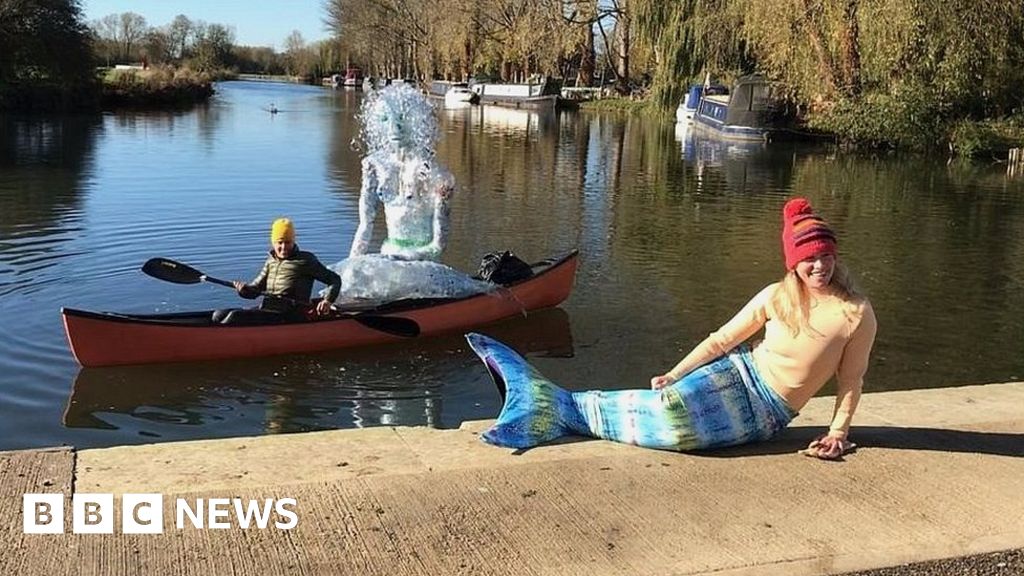 Image caption
Lindsey Cole is swimming part of the River Thames to raise awareness of single-use plastic
A drowning cow was rescued from a river by a passing "mermaid" on a 200-mile swim of the Thames.
Lindsey Cole splashed into the river in a wetsuit, tail and hat at Lechlade, Gloucestershire, on Friday. She is raising awareness of the environmental effects of single-use plastic.
As she passed through Oxfordshire on Sunday, she spotted the stricken cow.
Ms Cole said she carried on swimming while her mother and support canoeist called the emergency services.
The animal is believed to have fallen into the river from a nearby field when drinking, two miles east of the Swinford toll bridge.
Image copyright
Oxfordshire Fire and Rescue Service
Image caption
Firefighters used ropes and a bulldozer to hoist the stricken cow out of the water
Image caption
Along with swimming for about four hours a day, her support canoe is towing a giant mermaid sculpture made out of plastic bottles
Dubbed the "urban mermaid", Ms Cole had initially thought the animal was a large sheet of white plastic.
But when she signalled for her support boat to retrieve it, they discovered it had "four legs and was mooing".
Firefighters from Oxfordshire Fire and Rescue Service river rescue team managed to attach a rope to the animal and hoisted it to safety.
A spokesman said anyone who sees a stranded animal in need of rescue should always call 999.
You may also like:
"Never attempt to rescue it yourself, you may put yourself in serious danger," he added.
Ms Cole is swimming the route over 22 days and is stopping at schools on the way to raise awareness of plastics.