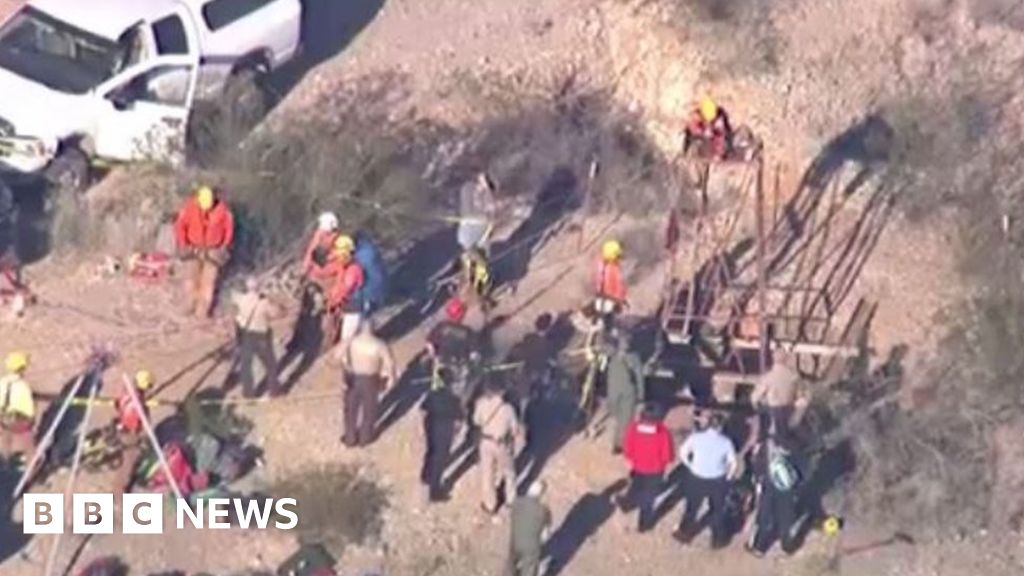 Image copyright
CBS
Image caption
It took workers six hours to free the 62-year-old father from the mine
An Arizona man has survived two days trapped alone in an abandoned mine shaft with rattlesnakes.
He killed three of the snakes while waiting to be discovered, according to rescue crews.
John Waddell, 62, was lowering himself into a 100ft (30m) gold mine shaft, when his equipment broke, said a friend who found him.
Mr Waddell broke both his legs and survived for 48 hours with no food or water, officials say.
Emergency teams worked for over six hours to remove him from the abandoned mine and airlift him to hospital.
Terry Schrader, a friend of the victim, told local media that Mr Waddell had called him on Monday to tell him he was going into the mine to look for gold and precious metals, and asked that he check on him if he had not returned by Tuesday.
Image copyright
CBS
Image copyright
Getty Images
Image caption
A Western diamondback rattlesnake, which is common in Arizona
On Wednesday he arrived at the mine, which is on Mr Waddell's property in Aguila – 90 miles (145km) northwest of downtown Phoenix.
"As I pulled out my truck I could hear him hollering. 'Help, help!'" he told ABC 15, expressing guilt that he had not checked on him sooner.
The mine was in a remote location with no mobile phone service, so he had to drive out of the desert to call emergency officials, he said.
Image copyright
Maricopa County Sheriffs Office
Image caption
The mineshaft is around 100ft deep
Image copyright
CBS
Image caption
Terry Schrader was the first to find the victim
"The carabiner broke I guess, and he supposedly fell 40 to 50 feet," said Mr Schrader, adding that his friend is "a tough guy".
"He's got both artificial knees. One of them is messed up," he said.
Another friend, Mike Balowski, told KSAZ-TV that he believes Mr Waddell killed the rattlesnakes because he was hungry.
He described him as an experienced "miner by trade" and said he spoke to him in the hospital on Thursday morning.
"I told him I was going to kick his rear end when he gets better for not being there with somebody," he said.
There are 13 types of rattlesnakes that can be found in Arizona, according to state wildlife officials.
Rattlesnakes are venomous and can kill an adult with just one bite.
You may also like:
Officials had to use hundreds of feet of rope to rig a pulley system in order to lift Mr Waddell out of the shaft.
As he was raised to the surface, local media say he could be heard screaming in agony.
Roger Yensen, Mountain Rescue Posse commander, called it a very challenging operation.
Image copyright
cbs
Image copyright
Maricopa County Sheriffs Office
He told reporters that one rescuer had to first abseil in to the shaft to assess Mr Waddell's injuries.
He was found to be severely dehydrated, but able to speak, and had suffered possible ankle and leg fractures as well as friction burns to his hands – likely caused by gripping the rope.
Sheriff Paul Penzone told the AP news agency that the rescue posse and the sheriff's search-and-rescue team saved Mr Waddell's life.
"Our men and women train year-round for this type of event," he said, "and we are all grateful for this positive outcome."