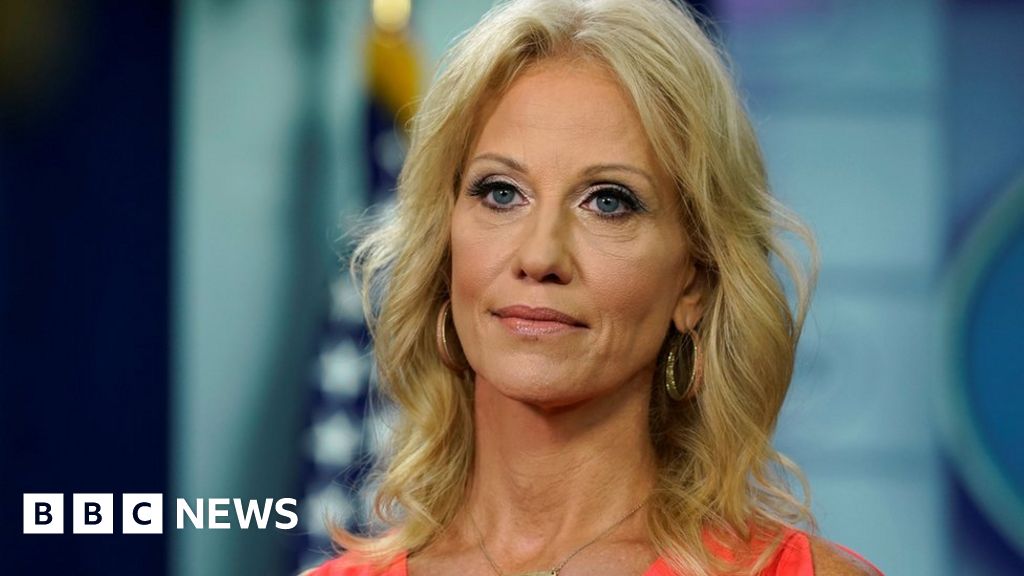 Image copyright
Reuters
Image caption
Kellyanne Conway managed Donald Trump's election campaign
White House adviser Kellyanne Conway has revealed that she was sexually assaulted as a younger woman.
"I'm a victim of sexual assault," she told CNN without giving details. Ms Conway, 51, has hinted previously that she was molested by Congressmen.
The comment came as she was defending President Trump's embattled Supreme Court nominee Brett Kavanaugh, who is facing allegations of sexual assault.
"I feel very empathetic… towards victims of sexual assault," she said.
The Senate vote on Mr Kavanaugh's nomination was delayed dramatically this week when the president ordered further FBI background checks on his character.
In an earlier confirmation hearing watched by millions in the US and around the world, Dr Christine Blasey Ford accused the judge of sexually assaulting her when they were teenagers in the 1980s.
The FBI is also investigating an allegation of historic sexual misconduct made by at least one other woman, Deborah Ramirez.
What did Conway say previously about being assaulted?
It is not the first time that she has spoken of prior sexual assault.
Ms Conway raised the issue in 2016 while managing Mr Trump's election campaign, passionately defending him when asked in an MSNBC interview about his record in dealing with women.
"I would talk to some of the members of Congress out there," she said. "When I was younger and prettier, them rubbing up against girls, sticking their tongues down women's throats, uninvited, who didn't like it."
In 2017, she described that interview as her "#MeToo moment", but said that "nobody cared" about it due to her political views.
What does Conway say now?
Ms Conway made her latest disclosure to CNN's Jake Tapper on his State of the Union news show, saying: "I feel very empathetic, frankly, towards victims of sexual assault and sexual harassment and rape."
"I'm a victim of sexual assault. I don't expect Judge Kavanaugh, or Jake Tapper, or Jeff Flake, or anybody, to be held responsible for that. You have to be responsible for your own conduct," she added.
"We do treat people differently who are either the victims or the perpetrators of this based on their politics now, based on their gender. That is a huge mistake."
Skip Twitter post by @CNNPolitics
CNN's Jake Tapper: "As a survivor of this … does that not make you think, when you hear somebody like Professor Ford … does that not make you think these women need to be heard?"
Kellyanne Conway: "They should all be heard. And they should be heard in courts of law" #CNNSOTU pic.twitter.com/zR5cze8TQd— CNN Politics (@CNNPolitics) September 30, 2018
End of Twitter post by @CNNPolitics