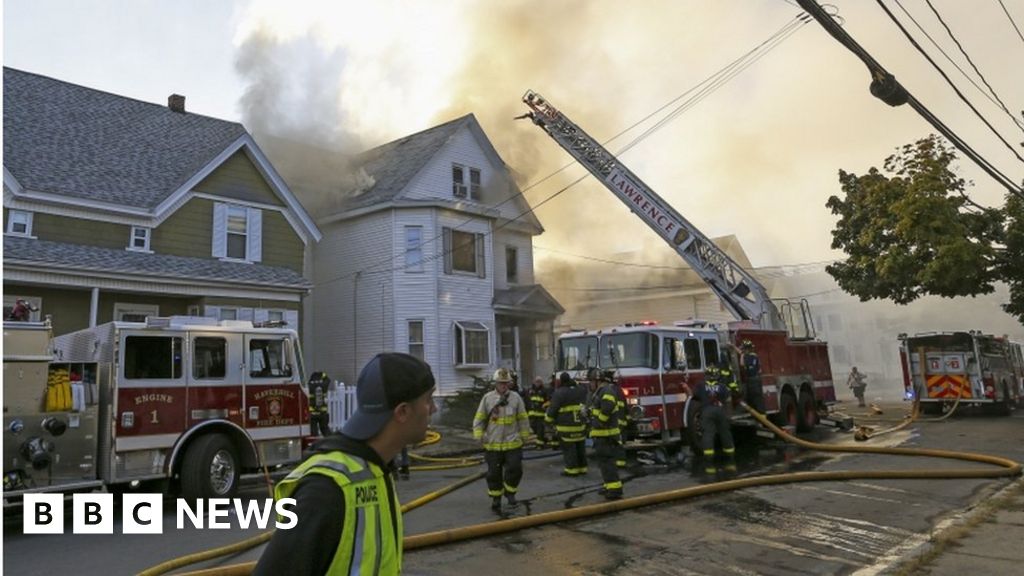 Media playback is unsupported on your device
Media captionSuspected gas explosions set homes ablazeAt least 39 homes and buildings in towns outside of Boston, Massachusetts were hit in a series of suspected gas explosions, officials say.
Local police reported dozens of "fires and explosions" in the towns of Lawrence, Andover and North Andover, saying the "number will grow".
The explosions have resulted in evacuations and several serious and minor injuries, local media say.
Local gas and electric companies are cutting service to the area.
Merrimack Valley officials believe the explosions could have been set off by pressure issues with Columbia Gas lines, but have not confirmed a cause.
Image copyright
Reuters
Image caption
A building burning after explosions rocked swaths of Lawrence
The lines are being depressurised by the company, but "it will take some time", state police said, advising anyone who smells gas or has Columbia Gas service to "evacuate their homes immediately".
Lawrence Mayor Dan Rivera has asked all south Lawrence residents – even if they do not have Columbia Gas – to evacuate their homes amid a planned power shut down.
Lawrence General Hospital said four individuals had received treatment for injuries sustained in the incident, US media report.
Image copyright
EPA
Image caption
Firefighters continue to battle fires in homes across the area
Police have set up evacuation centres in local schools.
State police tweeted that they have responded to 70 instances of fires, explosions or gas odours across Lawrence and Andover.
In Andover, officials reported 18 "gas-related fires" burning simultaneously at peak. In all, firefighters put out 35 fires in the area.
Neighbouring Police Chief Joseph Solomon, who came in to assist from the town of Methuen, said there were so many fires burning that "you can't even see the sky", according to the Lowell Sun.
Image copyright
EPA
Image caption
Local media say at one point there were 18 fires burning in the town of Lawrence
The Sun reports that fire officials have called the explosions a mass casualty incident, though there were no specifics regarding injuries.
The towns are located approximately 27 miles (43km) north of Boston.
The State Fire Marshal's Office and the FBI are involved in the investigation.
The Governor of Massachusetts, Charlie Baker, said in a statement he is talking with local safety authorities about the incident.