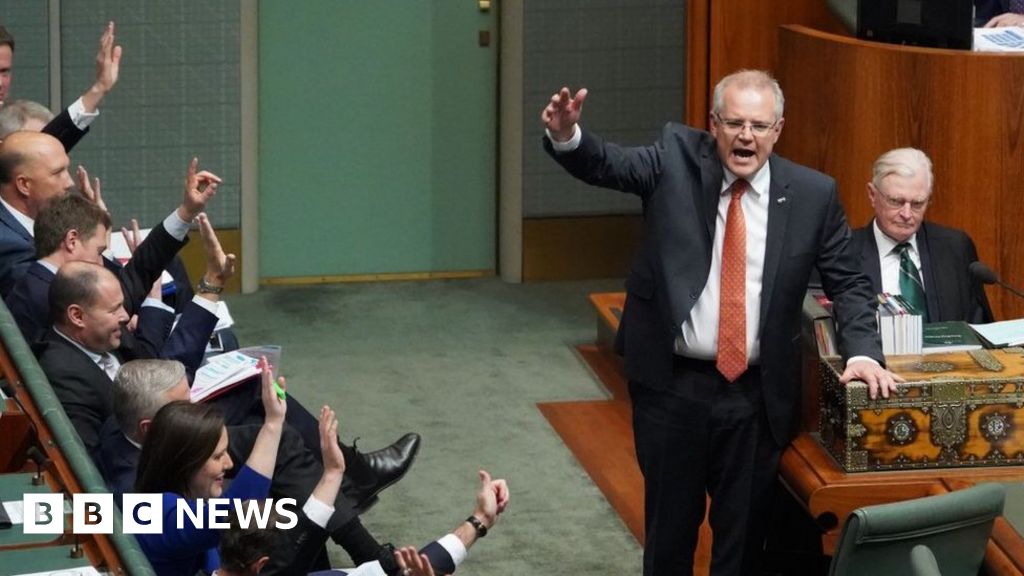 Image copyright
Getty Images
Image caption
Scott Morrison set footage of MPs raising their hands to a song by US artist Fatman Scoop
Australian PM Scott Morrison has apologised for posting a video online after discovering its soundtrack – a famous hip-hop song – contained lyrics that were "just not OK".
The 11-second video showed government MPs raising their hands in parliament. In the caption, Mr Morrison praised his colleagues as being "on fire today".
But social media users widely expressed puzzlement over its accompanying song – Be Faithful, by US artist Fatman Scoop.
The song has several explicit lyrics.
The section posted on Mr Morrison's social media accounts was not explicit: "You got a hundred dollar bill, get your hands up! You got a 50 dollar bill, put your hands up!"
But the post was ridiculed as "bizarre" by people online. Many pointed out that the song, a global hit in 1999, had explicit language and sexual references.
Skip Twitter post by @TimWattsMP
I'm now fascinated by what was going on in the Prime Minister's office during the five hours it took them to produce this video.
Did someone pitch this? Were there meetings? We're other songs considered? Why?
Mainly 'why'? https://t.co/d5pWOmNXPf— Tim Watts MP (@TimWattsMP) September 13, 2018
End of Twitter post by @TimWattsMP
Some political observers said the post raised questions about whether Mr Morrison, who became prime minister three weeks ago, and his team were fully equipped for the top job.
But others dismissed such criticism as overblown, or saw a fun side.
The tweet was deleted about four hours after it was posted, and Mr Morrison apologised.
Skip Twitter post by @ScottMorrisonMP
The full lyrics of the song used in my earlier video from QT today were just not OK. When I found out, I asked the team to take it down. Apologies.— Scott Morrison (@ScottMorrisonMP) September 13, 2018
End of Twitter post by @ScottMorrisonMP