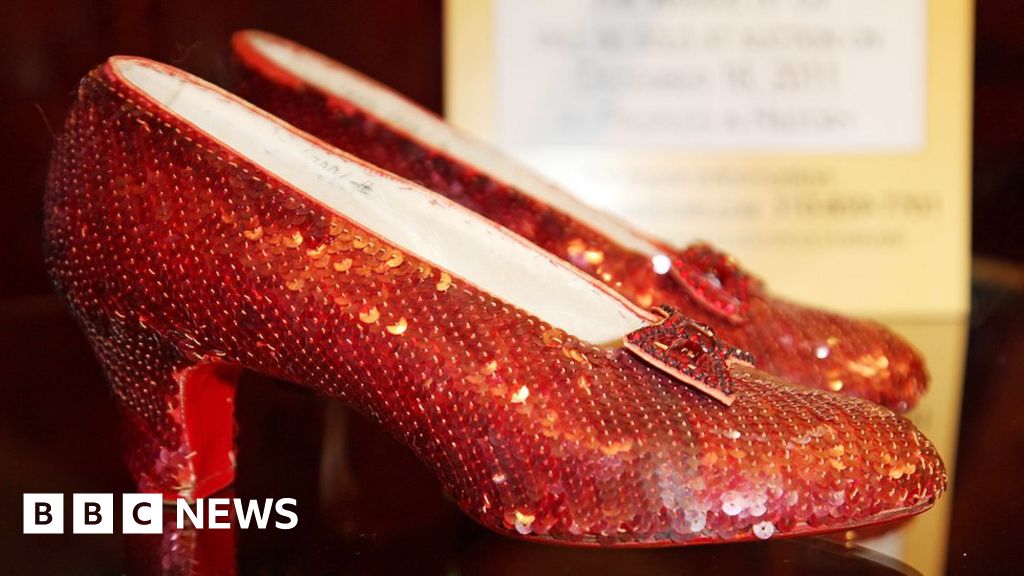 Image copyright
Getty Images
Image caption
Multiple pairs of ruby slippers were made for the film, including these ones displayed in Beverly Hills in 2011
A pair of ruby slippers worn by Judy Garland in The Wizard of Oz has been found 13 years after being stolen, according to US authorities.
They were taken from a Minnesota museum in 2005, when someone broke in through a window late at night.
Three others pairs of ruby slippers worn by Garland in the 1939 film are known to exist.
An anonymous donor once offered a $1m (£775,000) reward for the stolen pair's whereabouts and the thief's name.
However, the reward expired on the tenth anniversary of the robbery.
It is unknown if the shoes' recovery is related to any tip-offs.
The slippers are often said to among the most valued props in movie history.
This pair was insured for $1m but experts have said they could be worth two times that now.
Image copyright
Getty Images
Image caption
Judy Garland played the lead role of Dorothy Gale in the classic musical
How were they stolen?
The Judy Garland Museum in Grand Rapids, Garland's birthplace, had been loaned the slippers from a collector named Michael Shaw.
The theft was described as a simple smash-and-grab, with the glass display case destroyed and the slipper snatched.
Almost no clues were left behind, neither footprints nor fingerprints, and the surveillance camera was not working that night.
"I literally felt like I was hit in the stomach when I got the call," Mr Shaw told Newsweek in 2015. "My knees buckled, and I went right down on the floor. I had taken care of those shoes for 35 years!"
Jon Miner, the museum's co-founder, told the magazine he was also devastated. "I cried," he said. "I couldn't believe this happened to us because it was the stupidest thing."
The museum has kept the podium – labelled "Dorothy's Ruby Slippers" – empty since they disappeared.
A documentary about the theft – Who Stole The Ruby Slippers? – was released in 2015.
The history of the ruby slippers
The shoes are covered in about 2,300 sequins, according to the Hollywood Reporter
In The Wonderful Wizard of Oz – L. Frank Baum's 1900 book on which the film is based – Dorothy wore silver shoes. However MGM Studios chose to turn them bright red to show off new Technicolor film techniques
In 2016, the Smithsonian's National Museum of Natural History in Washington DC raised more than $300,000 for the restoration of a pair they had acquired
In 2012, actor Leonardo DiCaprio was named as the lead benefactor in a group of movie lovers who bought one of the pairs. It will be displayed at the Academy Museum of Motion Pictures when it opens in Los Angeles next year
The fourth known pair is owned by a private collector, who bought them from a Tennessee schoolteacher who had won them in a 1940 competition
Actress Debbie Reynolds was also once given some ruby slippers from the movie but these were used for screen tests and never worn by Garland. They sold for more than $500,000 at a 2011 auction