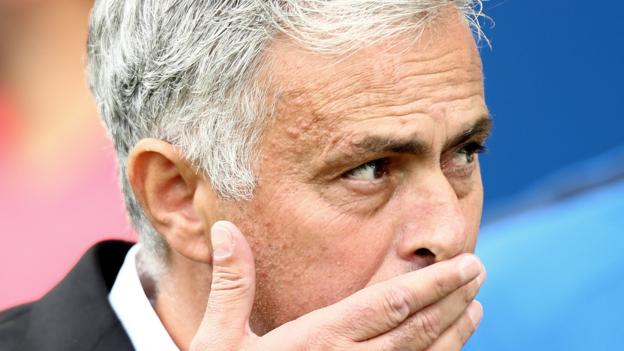 Jose Mourinho failed to win a major trophy at Manchester United last seasonThere is "blood in the water" at Manchester United amid apparent discord behind the scenes, says former Arsenal and England striker Ian Wright.
United manager Jose Mourinho said his side made "incredible mistakes" as they lost 3-2 at Brighton on Sunday.
Wright suggested executive vice-chairman Ed Woodward was also unhappy.
Speaking on BBC Radio 5 live's Monday Night Club, Wright said: "Ed Woodward's unhappy, the manager's unhappy, the players are unhappy and the fans are."
Mourinho warned in the summer that his side faced "a difficult season" if they did not strengthen before the transfer window closed.
He had highlighted his team's defence as an area that needed bolstering, but deadline day passed without any new arrivals.
Former Arsenal striker Wright said he feared for the Old Trafford future of Mourinho, who signed a contract extension in January, committing him to United until 2020.
"Something is going to have to give somewhere along the line," he added.
"If it carries on like this for Manchester United, I don't care how much money they are making, they are going to slip way out of it.
"I cannot see any other outcome than unfortunately Jose Mourinho will probably lose his job if it carries on like it is."
Man Utd punished for incredible mistakes – Mourinho'There are big splits at Man Utd'
Former Chelsea forward Chris Sutton, speaking on the same programme, said Sunday's display suggested United's players "were not playing for their manager".
"There are big splits. They don't seem committed to the manager or the cause," added Sutton.
"They are Manchester United in name only. The worst thing is it didn't seem like a one-off yesterday, and it could happen time and time again.
"The fans are angry and fed up."
'Man Utd should have backed Mourinho'
United were linked with several defenders during the close season, including Leicester's Harry Maguire, Tottenham's Toby Alderweireld and Bayern Munich's Jerome Boateng.
Speaking on Sky Sports' Monday Night Football, former United defender Gary Neville said the club should have supported Mourinho in the transfer window.
Neville added: "The minute that he [Woodward] gave Jose Mourinho a contract extension – which some would say was unnecessary part way through a season – but believing in a manager, showing the faith, he had to then buy him the centre-backs.
'Too many Man Utd players didn't give their all – and that's a problem'"Irrespective of the manager, Manchester United need new centre-backs.
"My view is that Maguire and Alderweireld would have been good options. If they cost £120m to bring them in, then that's what you have to do.
"My view would be that he's got to stay until the very end of that contract and be backed until the end of that contract if you're going to give a contract extension as the CEO of the club.
"At the moment, there is definitely an angst there between the club and the manager.
"Don't get me wrong – the club has supported him. But you can't three quarters build a house – you have to finish the job.
"United need serious football people to guide what they are doing."