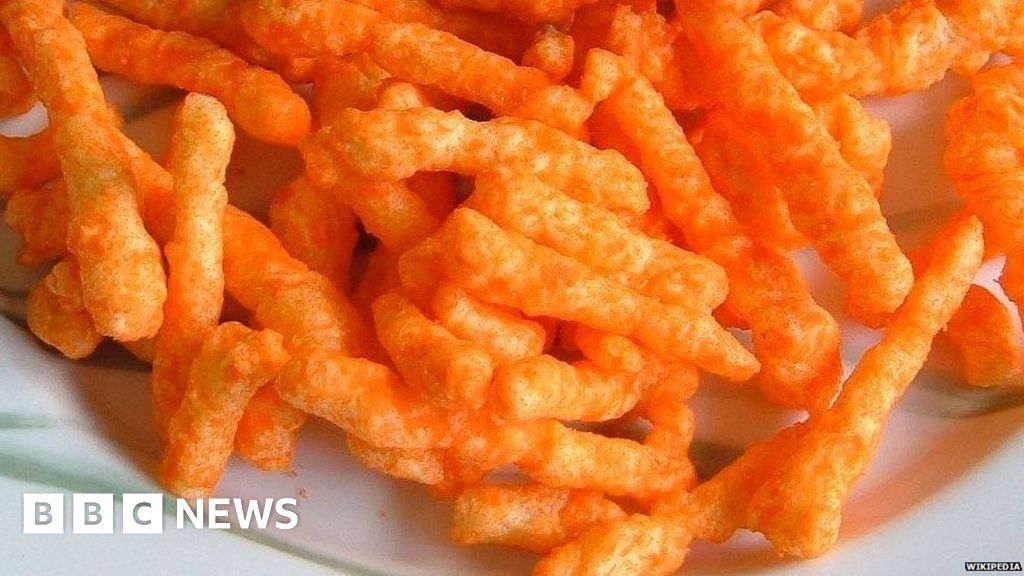 Image copyright
Wikipedia
A Canadian couple struck gold when they found a man-shaped Cheeto while staying in for a night of snacks and telly.
Leverna Parsons told the CBC how her husband almost ate the cheesy snack, which earned them a C$27,000 ($20,500, £16,100) prize.
The winning piece looked like a man running with an American football.
"Oh my goodness, don't tell me that I'm going to go through life and my legacy is going to be I'm the cheesy lady, the Cheetos lady!'" said Mrs Parsons.
The contest, which was sponsored by Cheetos-maker Frito-Lay, asks customers to send in photos of bizarrely-shaped Cheetos worthy of being in the "Cheeto Museum".
Weekly winners were eligible for a C$2,000 prize, and the top four were put to a public vote for a grand prize of C$25,000.
But Mrs Parsons and her husband Dwight Parsons did not know any of that when they sat down to watch a movie and have some snacks.
Image copyright
Frito Lay
Image caption
."The Running Man" won a spot in the "Cheetos Museum" – and C$27,000 in prizes
Mr Parsons commented on its odd shape before moving to plop it in his mouth.
"He had it almost in his mouth, and I was like, 'Oh god, don't eat it, don't eat it!'" Mrs Parsons, from Glovertown, Newfoundland and Labrador, told CBC.
She put it in a plastic baggy, thinking she could show it off to visitors.
A week later, her daughter told them about the contest and they entered with the title "The Running Man".
"We get such a kick out of it, and everywhere we go now, everybody is always, 'Oh my god, we were voting for you.' It was so good."