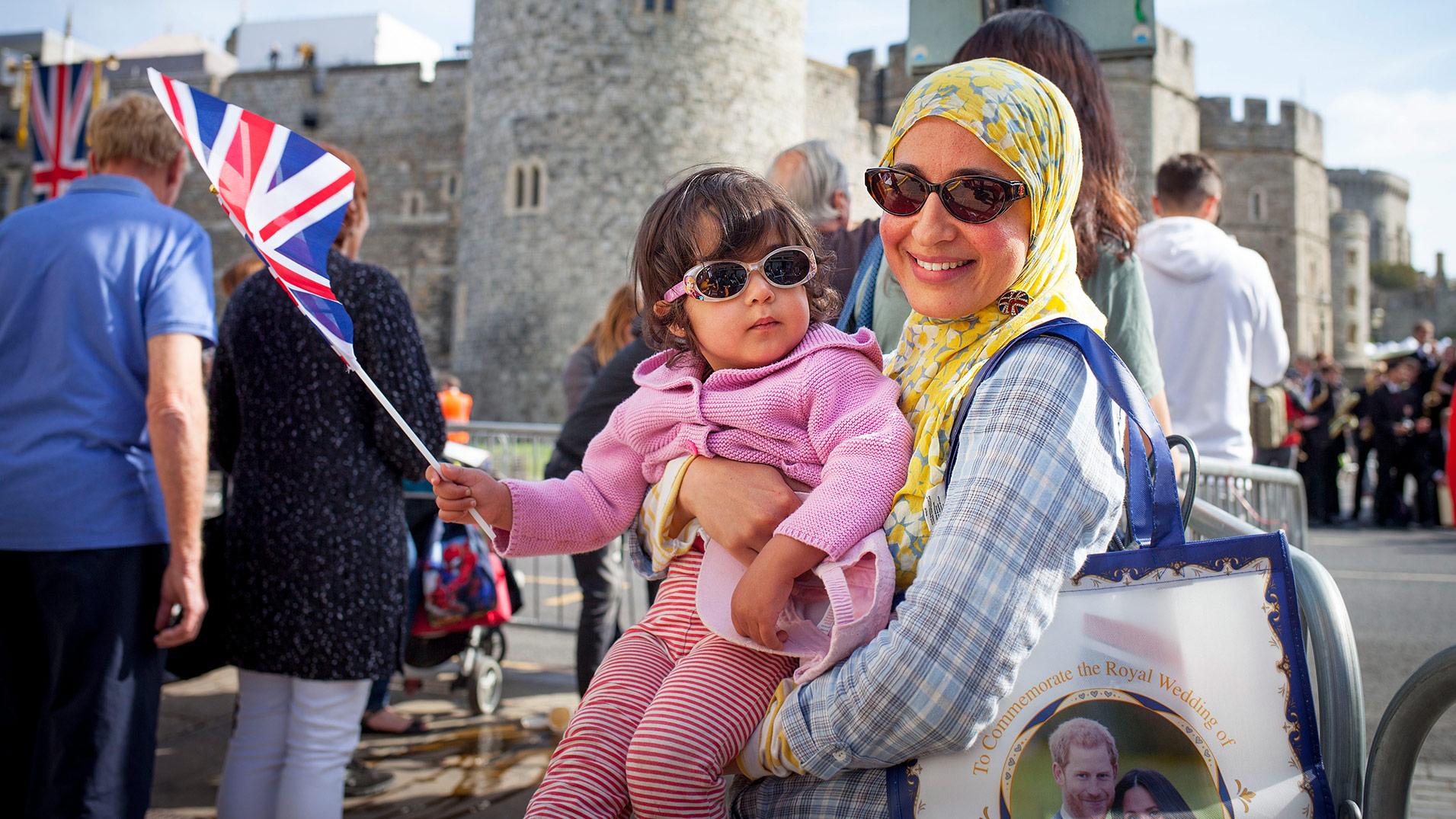 Sanaa holds her 2-year-old daughter, Lily, in Windsor, England, on Friday.
It's the biggest party in Britain, and people are coming from far and wide to get a glimpse of Prince Harry and Meghan Markle on their wedding day.
The couple will be riding a horse-drawn carriage through the town of Windsor after being married on Saturday. The two-mile procession is expected to last about 25 minutes.
Police expect 100,000 people in Windsor on the day of the wedding, but some people arrived several days in advance to make sure they get a chance to see the newlyweds and be a part of the festivities.
"It is about two people from different backgrounds connecting," said Sanaa, a woman from Ascot, England, who drove an hour on Friday to visit Windsor with her 2-year-old daughter, Lily. "It's about love, not money or titles. Love connects us all."
Derek Prince works in a Windsor shop and holds its most popular piece of merchandise. "I love the royal family," he said. "If Princess Diana is looking down from above, she will be thinking, 'That's my two boys sorted now.' "
Niki, a tourist from Marietta, Pennsylvania, timed her trip to London so she could attend the wedding festivities. "I've been following the royals since seventh grade," she said Friday. "I was captured by Charles and Diana's wedding, and Harry is her youngest. He's so cool, and he's marrying an American. … I hope it will be amazing tomorrow."
A dog wears a Union Flag in Windsor on Friday.
Paddy McNeill is an former British Army soldier who used to guard the Queen. He now takes people on tours of Windsor. "This is fantastic," he said Friday. "The whole world is here. We've had big events before, but nothing like this. This is a real crowd puller, bringing together the cultures of the UK and the USA. It will strengthen our special relationship and put Windsor on the map."
Sasima works in a spa on Windsor's High Street. "All the people here are so excited," she said. "We are not so busy now, but I think we will be very busy as soon as the wedding is finished!"
Victoria McRae flew in from Australia just for the wedding. "I love Prince Harry, what's not to love?" she said. She said she met him before and kissed him outside the Sydney Opera House. "I think I'm as excited as the bride," she joked. "We are on the same wavelength today I would imagine!"
Joseph Afrane came from London to be a part of the event. "Harry and Meghan are from multicultural backgrounds and so am I, so I'm a big fan of this event," he said. "They love each other, and this is promoting togetherness. America and Britain now stand shoulder to shoulder. Everyone is happy. This event is bringing everyone together."
Paul is from Windsor, and he serves as a DJ in a coffee shop in return for free coffee. "To be honest, the town is probably too small to host this event and the cost is incredible. There are excessive police out in force. But on balance, it's good for the town," he said. "We've never seen anything like it, it's the biggest event in our lifetimes. I think I'm going to set up a little party out back tomorrow and play some classic '70s tunes."
The couple's photos are all over Windsor, even on snacks.
Sasha works as a concierge at the Macdonald Hotel in Windsor. "It's so great they are having the wedding here in Windsor," he said on Friday. "The atmosphere is better than ever, the locals are loving it, and it gives us a special insight into the royal family and its history. It's going to be so crowded tomorrow. It's the biggest event I've seen since working here."
A woman gets a photo with the couple — sort of — before the big day.
Abbie Trayler-Smith is a Welsh photographer based in London. She is represented by Panos Pictures. Follow her on Facebook, Instagram and Twitter.
Photo editors: Brett Roegiers and Kyle Almond