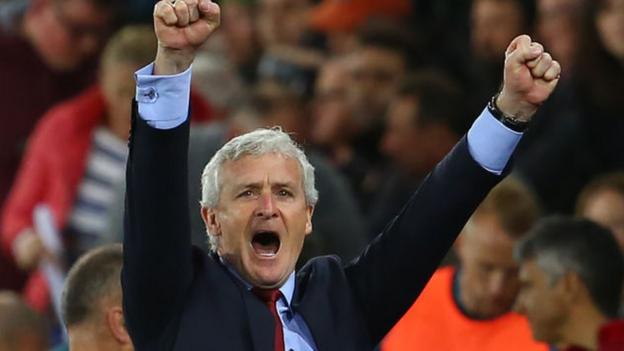 Saints safety not guaranteed yet – HughesSouthampton boss Mark Hughes said the "dark arts" that disrupted preparations for Tuesday's game at Swansea motivated his side to claim the victory that all but secured Premier League safety.
The squad stayed 40 miles away from the Liberty Stadium after their hotel cancelled the booking at the last minute.
Southampton beat Swansea 1-0 thanks to Manolo Gabbiadini's late goal.
"It helped our focus. We used it as a motivating factor," said Hughes.
"We suspected that maybe some of the dark arts were at work but we didn't let it affect us."
Victory lifted Southampton up to 16th in the table – level on 36 points with Huddersfield – and left Swansea three points adrift of safety with one game remaining.
The Marriott Hotel in Swansea defended its decision, saying it cancelled large bookings after some guests became ill.
Southampton stayed at the Vale of Glamorgan hotel near Cardiff on Monday night.
Hughes added: "I'm not for one minute suggesting Swansea had anything to do with that.
"Maybe it was over-zealous Swansea fans in positions to affect our hotel booking."
The bottom of the Premier League table after Southampton's winSouthampton host Manchester City on the final day of the season on Sunday, while Swansea host Stoke. The Saints' superior goal difference means it would require a 10-goal swing for them to go down.
Huddersfield need only a point from their final two games – at Chelsea on Wednesday and at home to Arsenal on Sunday – to secure their safety.
"I'm delighted for the club. It's not done mathematically but we've put ourselves in a good position," said Hughes, who was appointed in March until the end of the season.
"We've come in and found a group of guys who needed a bit more direction and a bit more belief.
"They've worked their socks off. They were immense against Swansea and weren't going to be denied."
Swansea boss Carlos Carvalhal said: "In this moment we are not relegated. Definitely we don't depend on ourselves.
"I will not put the fault in my players – I never do this; I assume responsibility.
"It is not a question they are not good enough, we created chances. We did our maximum, the players did their maximum, but we did not score for whatever reason."